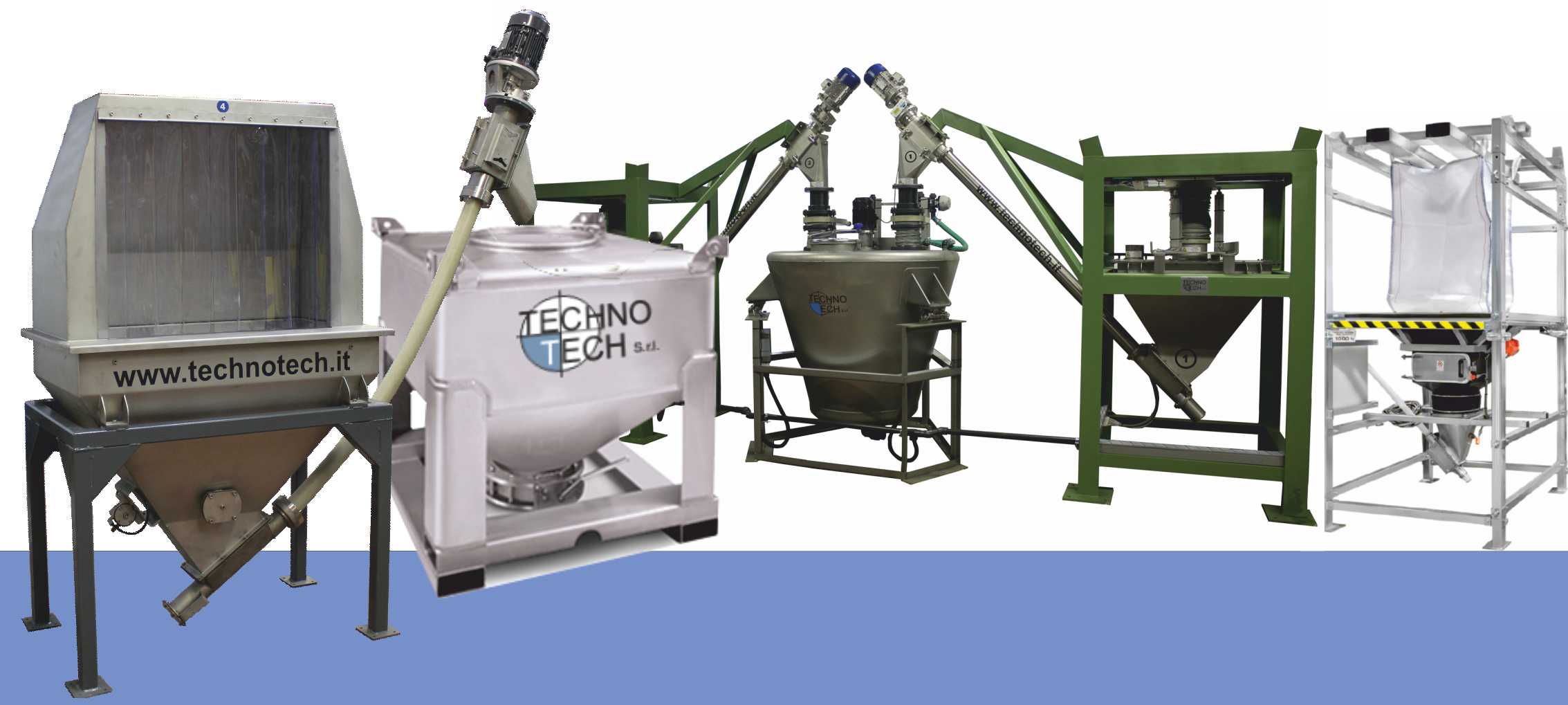 Automatic chemicals  and auxiliaries powders dosing
Particular attention is paid to the design and construction of
powder dispensers
as, very often, the dosage of powders is a really complicated operation.
Even the storage of
powders
or
granules
in the
loading hoppers
requires an accurate analysis in order to correctly size both the inclinations of the walls and the geometry of the loading and unloading openings.
Very often, in order to facilitate the release of dust, the
hopper
is equipped not only with mechanical
bridge breakers
, but also with pneumatic or electric vibrators . In this case we can really talk about real vibrating hoppers .
Another element of considerable importance for the success of
precision dosing
is the correct sizing of the
powder transport
system towards the dosing point.
This system must be designed in the most congruous way possible in order to obtain
fast and precise
gravimetric
and / or
volumetric dosers
.
Among the various types, the
auger doser for powders,
equipped with
flexible auger conveyors
, are the most widely used systems.
Optionally, it is possible to place a
hood
for the
suction of the poor
that evaporate during the loading operation.
Request more information / quote
Hoppers of various capacities
The hoppers are used to feed the conveyor systems with the products to be dosed, whether in powder or granular form. They are built both in AISI 304/316 stainless steel and in anti-corrosion plastic material such as PP ( polypropylene ) or PVC ( Polyvinyl chloride ) , depending on the need. The geometries and dimensions may vary according to the project. all the hoppers can be equipped with a support frame, a hood for suction of residual dust as well as various accessories such as: Vibrators , bridge breakers , level probes, etc.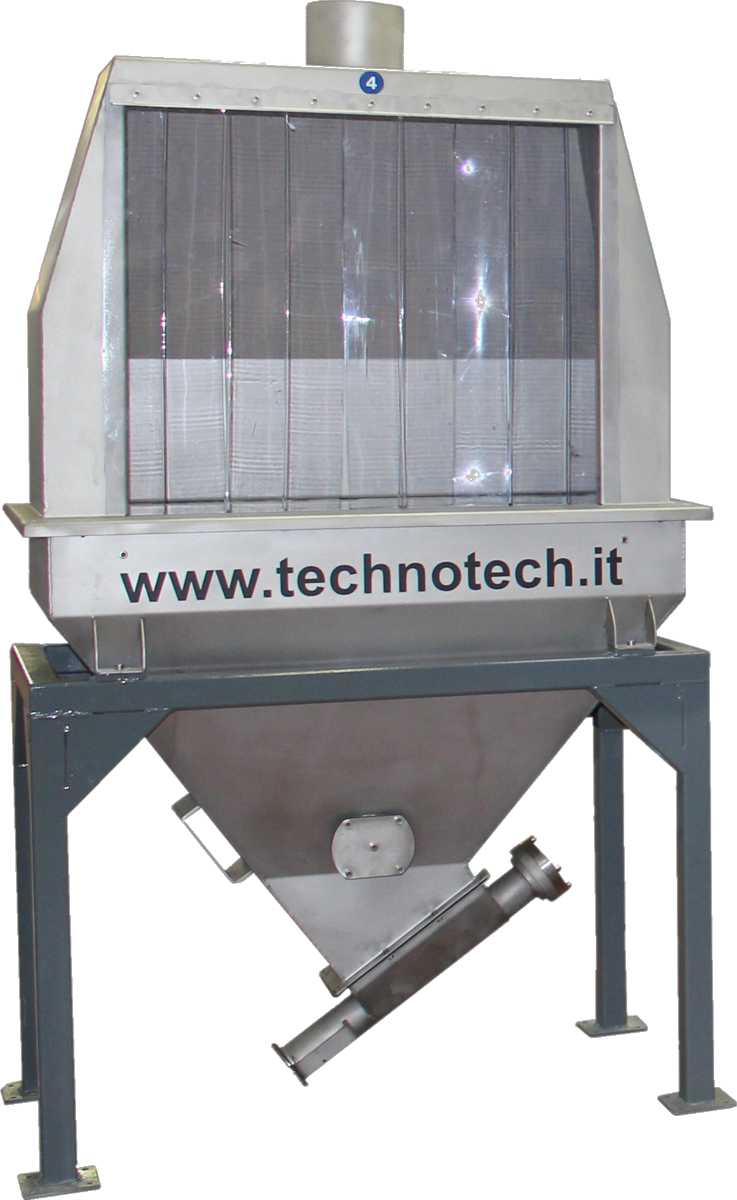 ACCESSORIES
Mechanical bridge breakers in various configurations

Electrovibrators

with adjustable eccentric masses

Vibrators or pneumatic hammers

Fluidizing porous sets

Rotary vane level indicators

Capacitive sensors

Membrane level indicators and other more specific ones
Request more information / quote
Flexible screw conveyor
The flexible screw conveyors , particularly suitable for powder dosing and granule dosing, are widely used in the food, chemical, pharmaceutical, cosmetic and plastic industries. blends.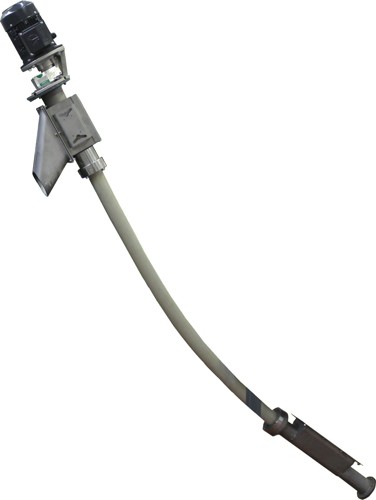 They are made with 40 mm external diameter tube. to 125 mm. and suitable for the characteristics of the transported material. Capacity from 120 kg / h to 10,000 kg / h The actual capacity is also a function of:
 Spiral rotation speed
Inclination to pick up

Smoothness of the material

Type of withdrawal: suitably shaped hopper, silo, drum, pile.
This transport system is able to:
Do not demix, during transport, mixed and dosed products.

Homogenize while transporting.

Lending itself to multiple combinations.

Do not pollute because it is hermetic and mechanical.

Ensure silent operation in the workplace.

Easily fit into existing systems because it is flexible.

Upload and download anywhere along the route.

Overcome significant differences in height and cover considerable distances.

On request special executions and in compliance with ATEX 949 / CE directive for Zone 2 – 22 and Zone 1 – 21
Withdrawal is assumed with:
– Conveyed material: free flowing granular powder
– Regular continuous flow
– Apparent specific weight 1 kg / dm³
– Initial pick-up stroke with inclination α = 30 °
– Rotating spiral at 580 rpm.
(930 rpm applications are also possible)
* For the flow rate in kg / h multiply for the specific weight of your product. product
The transport potential is linked to many variables and therefore the tabulated values ​​are purely indicative, please contact our. technical office for your specific application.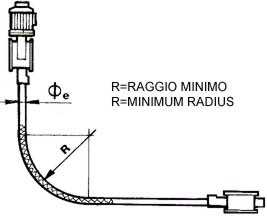 Request more information / quote